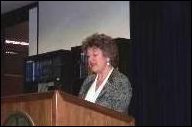 The Charles Brockden Brown Society was organized at the second biennial Charles Brockden Brown conference in October 2000 in Las Vegas, Nevada. The Society provides a platform for discussion of and research on Brown and the culture, history, and literature of the North Atlantic in the late eighteenth and early nineteenth centuries.
Charles Brockden Brown stands as a vital touchstone for the traffic of cultures across and around the Atlantic, recording and responding to ideas, images, and news as they came to attention from sources in North America, Anglophone and continental Europe, and regions of the world colonized by European countries.
The Brown Society mobilizes research on these axes of historical and literary research by hosting a conference every two years and by providing the Discussion Forum, here at this website, where it is hoped that Brown scholars will share comments, ideas, and information about Brown and related subjects.
Charles Brockden Brown Society Officers
and Board Members
Present
President
Matthew Pethers, University of Nottingham
Vice President
Hannah Lauren Murray, King's College
Executive Secretary & Treasurer
Karen Weyler, University of North Carolina-Greensboro
Advisory Board, Faculty Positions
Sam Sommers, Auburn University
William Ryan, Queensborough Community College
Siân Silyn Roberts, Queens College, CUNY
Helen Hunt, Tennessee Tech University
Laurel Hankins, University of Massachusetts Dartmouth
John Funchion, University of Miami
Jacob Crane, Bentley University
Advisory Board, Graduate Student Positions
Merav Schocken, University of California, Santa Barbara
Jessica Van Gilder, University of Kentucky
Pichaya Damrongpiwat, University of California Irvine
2020-2021
President Laurel Hankins, University of Massachusetts-Dartmouth
Vice President Keri Holt, Utah State University
Executive Secretary & Treasurer Karen Weyler, University of North Carolina-Greensboro
Advisory Board, Faculty Positions Daniel Couch, US Air Force Academy Hilary Emmett, University of East Anglia Helen Hunt, Tennessee Tech University Hannah Lauren Murray, King's College Matthew Pethers, University of Nottingham William Ryan, Queensborough Community College Sam Sommers, Freedom University
Advisory Board, Graduate Student Positions Emilee Durand, University of Maryland Richard Parmer, University of Kentucky Brittany Sulzener, University of Kentucky
2018-2019
President
Michelle Sizemore (University of Kentucky)
Vice President
Hilary Emmett (University of East Anglia)
Executive Secretary & Treasurer
Fritz Fleischmann (Babson College)
For the Advisory Board
Laurel Hankins (University of Massachusetts, Dartmouth)
Keri Holt (Utah State University)
Mathew Pethers (University of Nottingham)
Karen Weyler (University of North Carolina, Greensboro)
Elizabeth West (Drake University)
Graduate Student Members of the Advisory Board
Sam Sommers (University of California, Los Angeles)
Sara Cullen (Trinity College)
2016-2017
Officers:
Elizabeth Hewitt, President (Ohio State)
Duncan Faherty, Vice-President (CUNY)
Fritz Fleischmann, Executive Secretary/Treasurer(Babson College)
Board Members: Karen Weyler (Univ. of North Carolina, Greensboro), Elizabeth West (Drake), Michelle Sizemore (Univ. of Kentucky), William Ryan (Queensborough Community College), Laurel Hankins (Univ. of Massachusetts, Dartmouth), Megan Self (Texas Tech),Daniel Diez Couch (UCLA)
2014-2015
Officers:
Duncan Faherty, President (City University of New York)
Beth Hewitt, Vice-President (Ohio State University)
Fritz Fleischmann, Executive Secretary/Treasurer (Babson College)
Board Members: Michael Cody (East Tennessee State University), Hilary Emmett (University of East Anglia), Jared Gardner (Ohio State University), Evert van Leeuwen (University of Leiden), Nick Miller (Washington University in St. Louis), Sarah Schuetze (University of Kentucky)
2010-2013: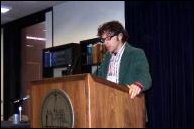 Officers:
Bryan Waterman, President (New York University)
Duncan Faherty, Vice-President (City University of New York)
Fritz Fleischmann, Executive Secretary/Treasurer (Babson College)
Board Members: Sari Altschuler (University of South Florida), Sarah Blythe (University of North Carolina), Andy Doolen (University of Kentucky), Michael Drexler (Bucknell University), Hilary Emmett [2012-2013] (University of Queensland), Sian Silyn Roberts (Queens College), Evert van Leeuwen [2012-2013] (University of Leiden), Ed White [2010-2012] (University of Florida)
2008-2010:
Officers:
Philip Barnard, President (University of Kansas)
Bryan Waterman, Vice-President (New York University)
Fritz Fleischmann, Executive Secretary/Treasurer (Babson College)
Board Members: Michelle Burnham (Santa Clara University), Andy Doolen (University of Kentucky), Duncan Faherty (City University of New York), Abigail Smith (University of Aberdeen), Ed White (University of Florida)
2006-2008:
Officers:
Nancy Ruttenburg, President (New York University)
Philip Barnard, Vice-President (University of Kansas)
Fritz Fleischmann, Executive Secretary/Treasurer (Babson College)
Board Members: Andy Doolen (University of Kentucky), Mark Kamrath (University of Central Florida), Bryan Waterman (New York University), Lisa West (Drake University)
2004-2006:
Officers:
Nancy Ruttenburg, President (New York University
Philip Barnard, Vice-President (University of Kansas)
Fritz Fleischmann, Executive Secretary/Treasurer (Babson College)
Board Members: Sean Goudie (Vanderbilt University), Janie Hinds University of Northern Colorado), Mark Kamrath (University of Central Florida), Wil Verhoeven (University of Groningen)
2002-2004:
Officers:
Janie Hinds, President (University of Northern Colorado)
Wil Verhoeven, Vice-President (University of Groningen)
Fritz Fleischmann, Executive Secretary/Treasurer (Babson College)
Board Members: Michael Cody (East Tennessee State University), Sean Goudie (Vanderbilt University), Mark Kamrath (University of Central Florida), Lynn Wardley (Stanford University)
2000-2002:
Officers:
Janie Hinds, President (University of Northern Colorado)
Wil Verhoeven, Vice-President (University of Groningen)
Fritz Fleischmann, Executive Secretary/Treasurer (Babson College)
Board Members: Martin Brückner (University of Deleware), Mark Kamrath (University of Central Florida), Stephen Shapiro (University of Warwick), Sarah Wood (University College of London)